We're excited to announce the Maine Dems Rise & Organize Rally, taking place entirely online! On Sunday, May 31 at 3:00 PM Maine Democrats will have the chance to take part in our special program bringing us together while we practice safe social distancing measures from home. Our online event will feature appearances from local, state, and national Democrats.
Featured Speakers will include:
Governor Janet Mills
Senator Bernie Sanders
Senator Elizabeth Warren
Congresswoman Chellie Pingree
Congressman Jared Golden
US Senate Candidate Speaker Sara Gideon
US Senate Candidate Bre Kidman
US Senate Candidate Betsy Sweet
Members of the Maine House Democrats
Members of the Maine Senate Democrats
State Treasurer Henry Beck
State Auditor Pola Buckley
Secretary of State Matt Dunlap
Attorney General Aaron Frey
...and many more to be announced!
GET YOUR FREE VIRTUAL TICKETS HERE
WHAT: The Maine Dems Rise & Organize Rally
WHEN: Sunday, May 31 at 3:00 PM
WHERE: Facebook Live!
RSVP: Let us know you're coming by getting your free virtual tickets here!
Show your support for Maine and for the Democratic Party from the comfort and safety of your home and get ready to Rise & Organize together to win this November!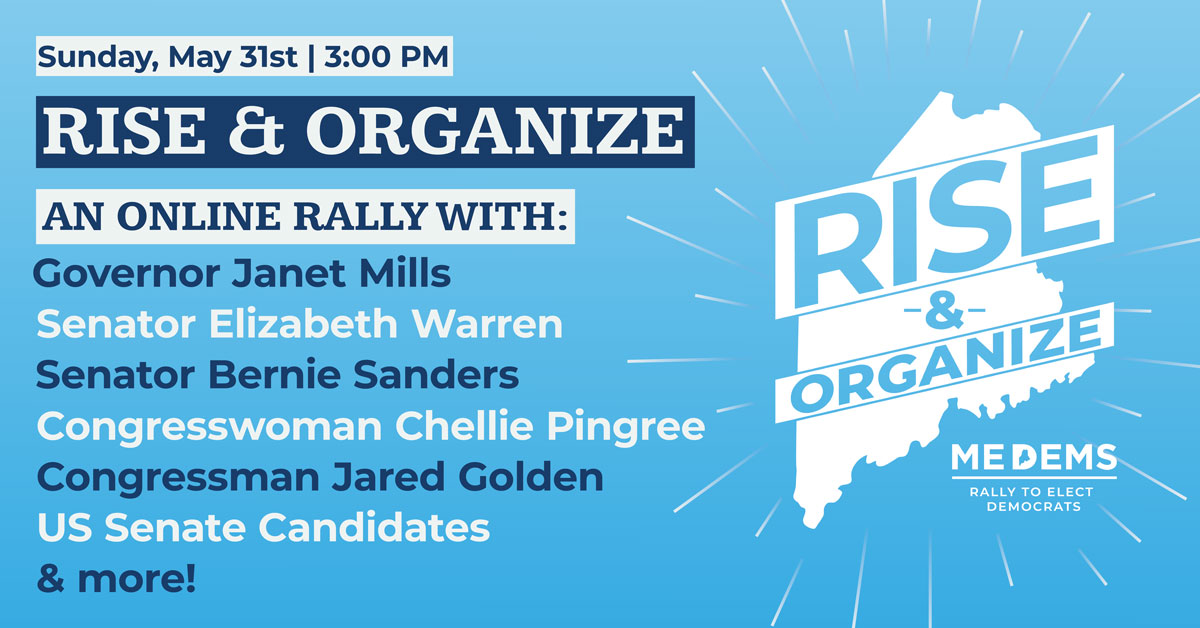 Federal office holders and candidates are appearing only as featured guests and are not soliciting funds or donations.