Susan Collins Refused to Attend Another Public Town Hall During August Recess
After praising the "rough and tumble town hall" for being "unvarnished, direct democracy," hundreds of Mainers attending two town halls met with empty chair
"If Senator Collins can attend a private fundraiser at the exclusive mansion of President Trump's 'judge whisperer,' she can attend a town hall with her constituents who actually live in Maine"
Over the past couple of weeks, Senator Susan Collins has no-showed or outright refused to attend two public town halls held for her by Mainers, who organized these town halls after being refused the opportunity to attend one with their senior senator for the past two decades. This, despite the fact that Collins had extolled the value of the "rough and tumble town hall" for being "unvarnished, direct democracy." 
Last night, a packed room of Mainers attended a public town hall for Collins in her hometown of Bangor: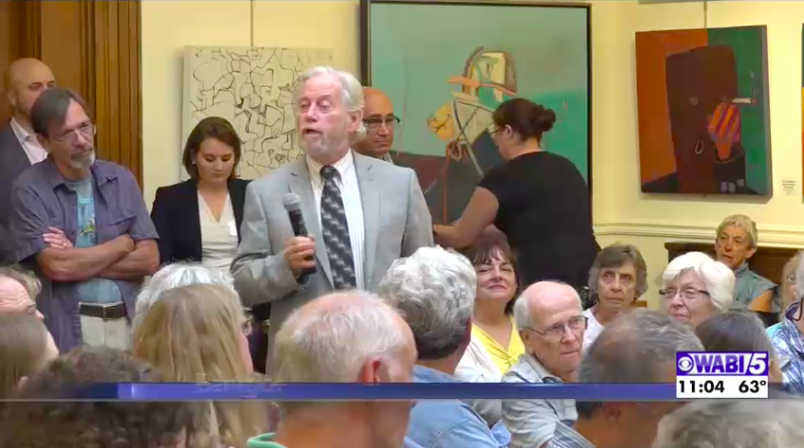 "A town hall forum was held Thursday night in Bangor … Dozens were in attendance … Senator Susan Collins was invited to attend, but we're told she declined … We have reached out to Collins' office for a statement and are waiting to hear back."
Last week
, hundreds of Mainers attended a public town hall held for Collins in Portland: 

"More than 100 Mainers gathered at the Portland Public library Tuesday evening and fired off questions about GOP tax cuts for the wealthy, the precariousness of the Affordable Care Act's patient protections, judicial oversight, opioid response, and reproductive rights to an empty chair stationed at the front of the room. The chair was set out for Senator Susan Collins, who declined an invitation from Sanford resident Connie Garber to come to the public meeting to discuss her voting record."
"Even though it's a shame that Senator Collins refuses to hold or attend town halls, it's inspiring to see Mainers take the initiative themselves. These town halls are a model of how voters can hold their elected officials accountable," said Maine Democratic Party Chair Kathleen Marra. "If Senator Collins can attend a private fundraiser at the exclusive mansion of President Trump's 'judge whisperer,' she can attend a town hall with her constituents who actually live in Maine."

This town hall comes as Senator Collins raised 97 percent of her campaign cash from out-of-state special interests & corporate PACs and attended a private fundraiser hosted by "Trump's judge whisperer." In Washington, Collins has become an increasingly reliable vote for special interests and went along with Republicans to pass a tax law that was a "lopsided giveaway to corporations" while threatening health care and protections for pre-existing conditions.