Maine Democratic Party Launches Digital Ad Campaign After Senator Collins Didn't Show Up to Town Hall 
After Collins didn't show up to a town hall organized by constituents, the Maine Democratic Party is launching a digital ad campaign to hold her accountable for not holding a town hall in two decades
Today, just days after Senator Susan Collins refused to attend a public town hall organized by constituents, the Maine Democratic Party is launching its first major digital ad campaign of the cycle. Senator Collins hasn't held a town hall for the past two decades, choosing instead to be more concerned with supporting the special interests and Mitch McConnell than listening to the people of Maine. These new Facebook ads hold her accountable and remind voters that the path to flipping the U.S. Senate runs through Maine.
When she was first in elected office, Senator Collins extolled the value of the "rough and tumble town hall meeting" for being "unvarnished, direct democracy."
Senator Collins' refusal to hold a public town hall comes as she faces new scrutiny for raising 97 percent of her campaign cash from out-of-state special interests and corporate PACs and attending a private fundraiser hosted by "Trump's judge whisperer." In Washington, Collins has become an increasingly reliable vote for special interests and went along with Republicans to pass a tax law that was a "lopsided giveaway to corporations" while threatening health care and protections for pre-existing conditions. 
Maine Democratic Party Chair Kathleen Marra issued the following statement:  
"The Maine Democratic Party has been putting in the work early and often to defeat Senator Susan Collins in 2020, and this new digital ad campaign continues to bring the fight to her doorstep - showing voters throughout the state that Senator Collins has failed Mainers. We're excited to see the results from this new effort and look forward to keeping up the pressure from now until Election Day."
 Below are images of the new ads: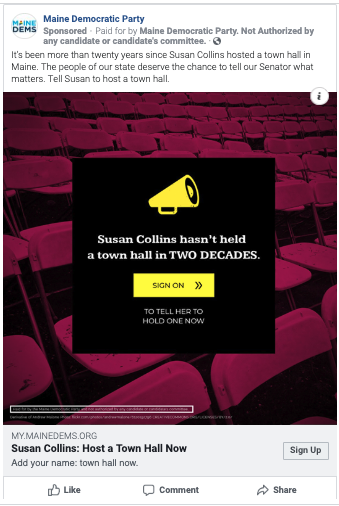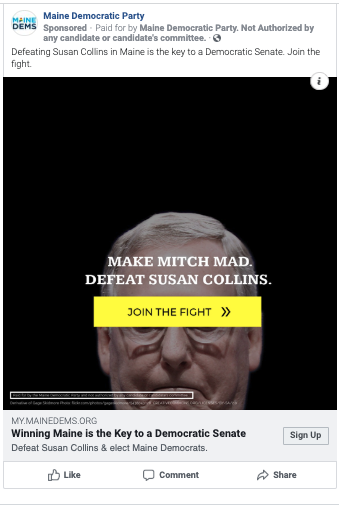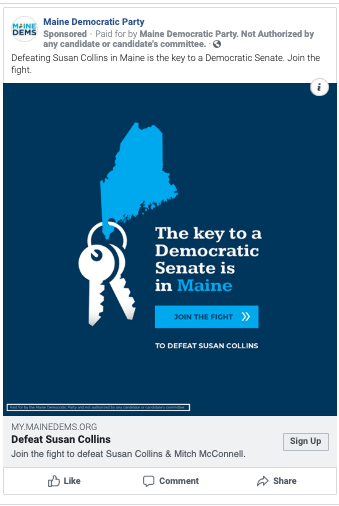 ###