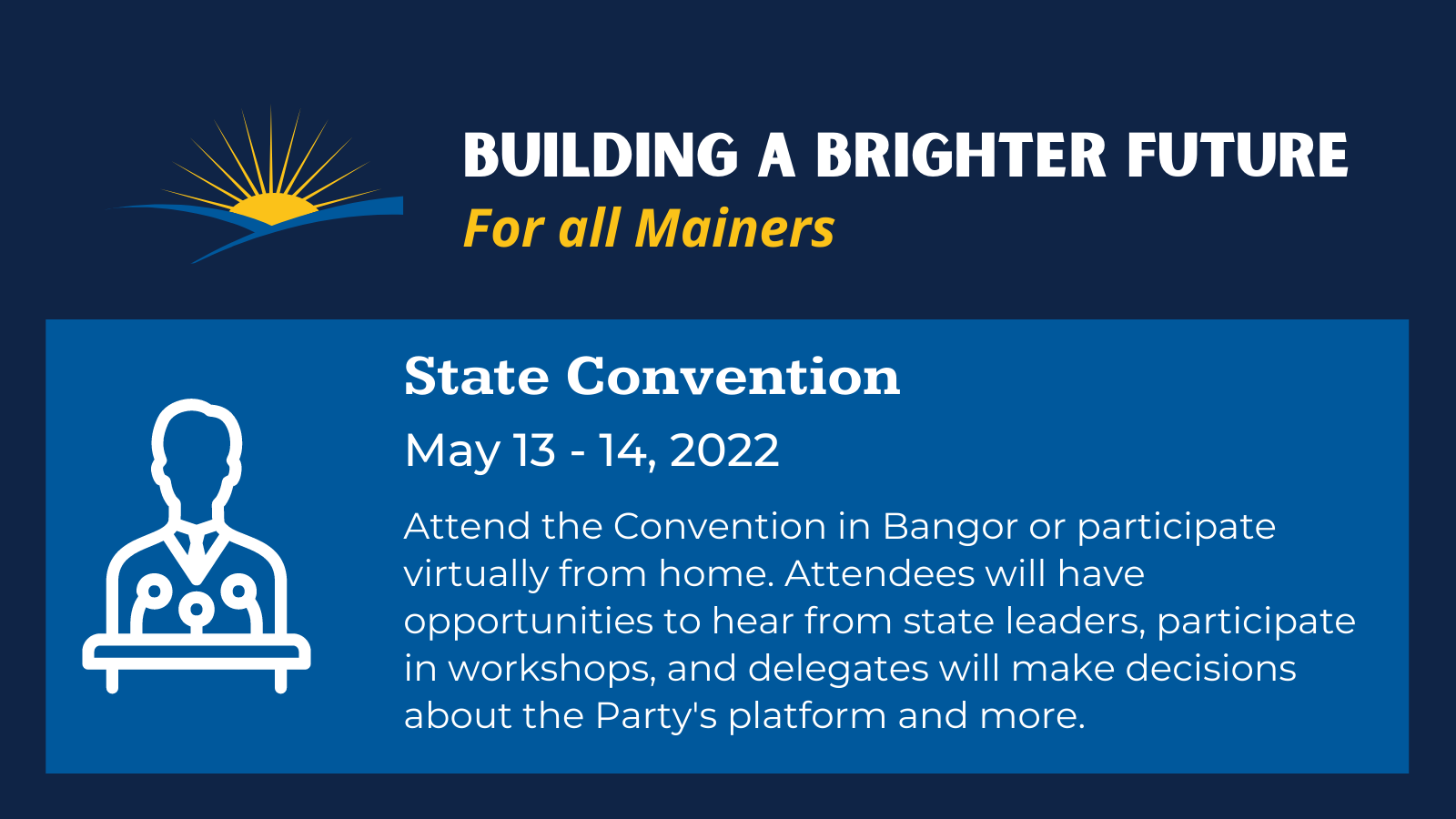 Join us at the 2022 Maine Democratic State Convention!
Every two years, thousands of Dems from all corners of Maine come together to shape the future of the party. It's an incredible weekend combining important decision-making and powerful community. This is the Democratic State Convention. And you don't want to miss it.
Where? Cross Center, Bangor
When? May 13-14, 2022
Convention Schedule
Programming at the Convention will feature discussion and voting earlier in the week, activist Workshops on Friday, speeches from a variety of Maine Democratic elected officials, and a special guest speaker on Saturday! Tickets to the Emerge Breakfast and Brighter Future Victory Party on Saturday are available separately on our ticketing page. Friday afternoon's Activist Workshops are free and open to the public (no ticket required).
We truly want the 2022 State Convention to be the most accessible Maine Dems Convention ever – and open to all Democrats, regardless of where they live or their economic means. That's why, for the first time, we're offering both in-person AND fully virtual participation options. 
We encourage all who are able and comfortable to join us in Bangor and attend the Convention in-person. However, if you are unable to attend in-person, a remote viewing experience will be available. You must purchase a ticket to attend the Convention both in-person and remotely.
Updated May 9, 2022
Time
Activity
Accessibility Plan
Monday, May 9 - Wednesday, May 11
All day
Pre-voting petition discussion period
Virtual only
Thursday, May 12
All day
State Delegates vote on petitions
Virtual only (with call-in voting options)
Friday, May 13
1:30pm
Workshops (free and open to the public)
In-person & virtual participation options
5:00pm (doors open at 4pm)

Call to Order
Territory Acknowledgement
Prayer – National Anthem – Pledge of Allegiance
Call to Convention
Penobscot County Welcome
Honorable John L. Martin, Temporary Convention Chair
Program – Rules – Credential – Platform Committee Reports
Sam Shapiro Award
Honorable Ryan Fecteau, Speaker of the Maine House, Permanent Convention Chair
Congressman Jared Golden
Honorable Drew Gattine, MDP Chair

In-person & virtual participation options
Saturday, May 14
9:00am
Emerge Breakfast (SOLD OUT)
In-person only
10:30am (doors open at 9:30am)

Call to Order
Territory Acknowledgement
Prayer – National Anthem – Pledge of Allegiance
Young Democrats
House Democratic Campaign Committee
Constitutional Officers
John Walker Award
Senate Democratic Campaign Committee
Congresswoman Chellie Pingree

In-person & virtual participation options
12:00pm
Lunch
In-person only
1:00pm

Congressman Adam Schiff
Coordinated Campaign Briefing
Noel Bonam, AARP Maine State Director
Vivien Powell Award
Honorable Troy Jackson, President of the Maine Senate
Former Governor John E. Baldacci
Governor Janet T. Mills
Adjourn

In-person & virtual participation options
3:00-5:00pm
Brighter Future Victory Party (tickets sold separately)
In-person only

Featured Guests:
Governor Janet Mills
Rep. Chellie Pingree
Rep. Jared Golden
Senate President Troy Jackson
Senate Assistant Majority Leader Mattie Daughtry
Senate Majority Leader Eloise Vitelli
House Speaker Ryan Fecteau
Assistant Majority Leader Rep. Rachel Talbot Ross
Special Guest: Congressman Adam Schiff
If you're new to the State Convention or need a refresher, here's an overview for you.
Who goes? Dems in Maine! That includes politicians, candidates, folks who were elected as State Delegates, County and Municipal Committee members, activists, organizers, and more. In other words, YOU!
What happens? A lot!
Delegates elect their County's representatives to the Democratic State Committee, the governing body of MDP. They also debate and vote on amendments to the Maine Democratic Party Platform (our core values) and Charter (the rules that govern our internal Party matters).
All attendees get to hear from top politicians, candidates, and major national figures, as well as representatives from important progressive organizations.
There's also an incredible range of workshops on best practices, cutting edge findings, and critical skill development to help you get Dems elected up and down the ticket.
And there is homecoming. At State Convention, everywhere you turn, there are good folks committed to making Maine more blue, more just, more kind. It's a remarkable place to be.
Frequently Asked Questions (FAQ)
Why are tickets required to attend the State Convention?
100% of ticket sales go directly to offsetting the cost of hosting the Convention. Tickets continue to be one of the many ways we raise money to host this event. We have sought this year to keep ticket prices as low as possible ($40-$45 as opposed to $60-$65 in previous years).
What are the COVID-19 protocols for in-person attendees?
Event participants will need to show up-to-date proof of vaccination in order to attend the Convention. Participants must stay home if they: (a) test positive for COVID-19, (b) are in close contact with someone who tested positive for COVID-19 and have not received a negative test result, (c) or are experiencing COVID-19 symptoms (e.g. headache, sore throat, cough, sniffles, body aches, or fever).
All attendees must also wear a well-fitted mask covering their nose and mouth at all times. Masking will be  enforced in all meeting spaces. Attendees may remove masks when eating or drinking, but are encouraged to maintain 8 to 10 feet of distance while eating or drinking.
What do participants get in exchange for purchasing a ticket?
We're offering two types of tickets this year: for both in-person and virtual participation experiences.
"In-person" tickets grant access to the Convention floor. This is the traditional ticket that we've offered at past Conventions. 
"Virtual" ticket holders will be able to participate in the vast majority of Convention activities through our interactive virtual platform from the comfort of their home. 
State Delegates who purchase either type of ticket will get access to our virtual platform early to participate in discussion and voting processes. Historically discussion and voting happened on the Convention floor. However, since not all of our Delegates will be attending in-person this year, we made the decision to move this part of the agenda online.
Is financial aid available to attend the State Convention?
Yes. We have a limited number of free tickets available for participants (including State Delegates) who would like to attend the Convention, but for whom the ticket price presents a barrier. The Maine Democratic Party welcomes all Democrats regardless of background and means. To request a waiver for a ticket, simply email info@mainedems.org.
This page will be updated. Please email info@mainedems.org with questions.
Thank you to our 2022 sponsors!