Our 2018 Democratic State Convention will take place on Friday, May 18th - Sunday, May 20th at The Colisee in Lewiston. The convention gives Democrats the opportunity to hear from MDP leadership, Democratic candidates, and grassroots leaders; meet fellow passionate Democrats from across the state; and participate in activist workshops. Only Convention delegates and alternates speak on the floor and vote, but the event is open to the public and we encourage you to attend!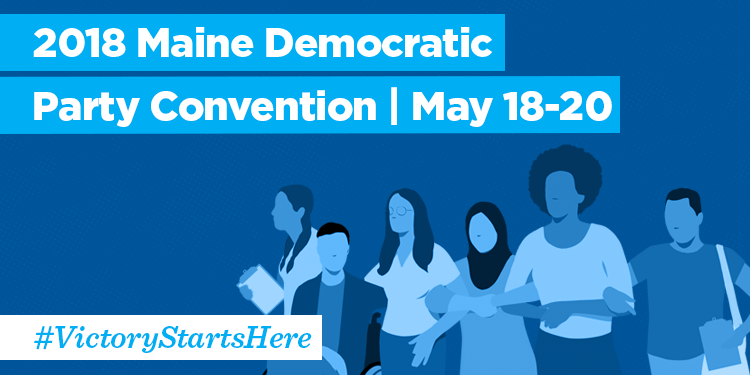 If you want to be a delegate to the 2018 Maine Democratic Party Convention, you should attend your local caucus. Check out our caucus page to learn more!
Convention Registration
Delegate/Alternate Registration

$45 Early Bird (order must be received before 11:00 PM April 15th)
$50 Advance Purchase (order must be received before 11:00 PM May 11th)
$60 at the Convention

Guest Registration

$25 Advance Purchase (order must be received before 11:00 PM May 11th)
$35 at the Convention

Saturday Morning Emerge Breakfast $35
Saturday Turkey or Veggie Box Lunch $12
Saturday Evening Victory Reception $35
You can register for the convention once the information from your caucus has been certified, which may take up to two weeks.  Please visit our caucus listing to check on the status of your caucus.
Convention Schedule
Schedule and events subject to change. 
Friday 12:00 PM to 8:00 PM
Check-In/Registration
Activist Workshops
Opening Ceremony (5:30 PM)
Committee Reports
Candidate Forum
Volunteer Awards
Remarks from Party Officials
Androscoggin County Welcome Reception
Candidate Hospitality Events
Saturday 7:00 AM to 6:00 PM
Emerge Maine Breakfast (Ticketed Event)
County Caucuses
Committee Reports
Candidates Forum
Maine House/Senate Election Strategy Briefing
Candidate Forum
Keynote Speaker
Victory Starts Here Reception (Ticketed Event)
Sunday 9:00 AM to 11:00 AM
Maine Democratic State Committee Meeting

New members of the State Committee are elected at Convention. If you are interested in running for the State Committee, the form is here.
Your 2018 Petition for Democratic State Committee Member must be signed by at least 10 Delegates or Alternates to the State Convention. Petitions must be submitted to the Democratic State Committee Headquarters by May 4th, 2018 at 5:00 PM: 320 Water St 3rd Floor, PO Box 5258, Augusta, Maine 04332-5258. Please submit original only, by certified mail with return receipt, or hand delivered with receipt given to the bearer. 
Lewiston area hotels 
Check out our Convention map to view hotels and Convention venues. Be sure to book early!