Westbrook, MAINE – Maine Democratic Party Chairman Phil Bartlett issued the following statement tonight in response to Governor LePage's day-late statement on the 11 percent increase in drug-related overdose deaths last year:
"Governor LePage's day-late response is a sad attempt to distract from his failed policies, which exacerbated this crisis, and is a disappointing reminder that he would rather play politics than save lives and deliver potshots than take responsibility.
"The sad fact remains that not only has the governor failed to act in any meaningful way to solve this crisis, but he's made it worse by restricting access to lifesaving treatment options, erecting needless barriers to anti-overdose medication, and irrationally objecting to Medicaid expansion – and Maine people know it."
Since Governor LePage took office in 2010, drug-related overdose deaths have spiked precipitously. But LePage – along with former DHHS Commissioner turned Republican candidate Mary Mayhew, in many cases – has worked to restrict access to evidence-based treatment options, botched a treatment program that they said would help hundreds, and have worked to prevent improving access to the lifesaving, anti-overdose medication naloxone.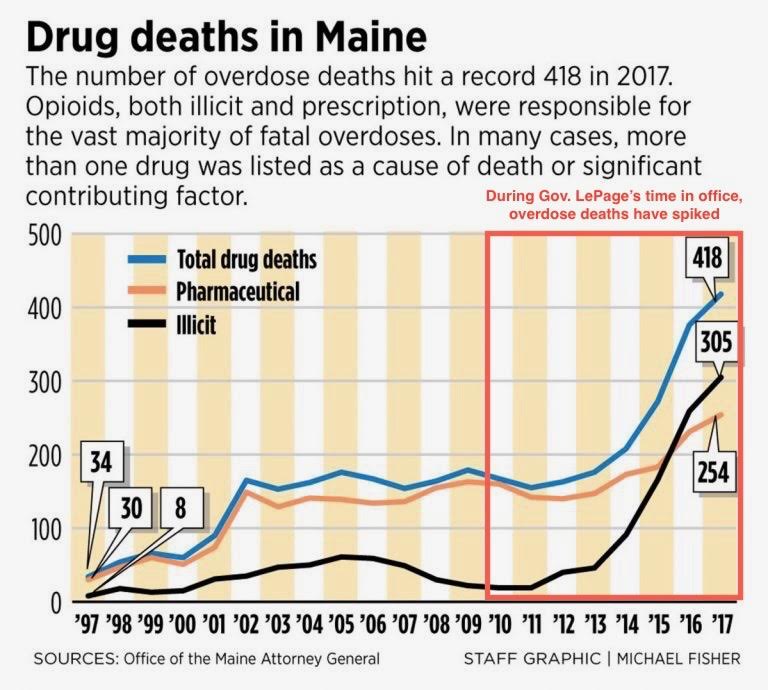 ###