FOR IMMEDIATE RELEASE
As Collins Casts Deciding Vote to Block Study on How GOP's Dangerous Health Care Lawsuit Would Hurt Mainers, Federal Court Raises New Threat to the Affordable Care Act
Collins cast the deciding vote yesterday in committee against requiring a report on how the Republican lawsuit to end the Affordable Care Act and its protections for pre-existing conditions would harm Maine and other states, on the same day a conservative court increased the odds of the health care law being overturned
Senator Susan Collins quietly voted in committee yesterday to kill an amendment that would have required a study on how the Republican lawsuit seeking to end the Affordable Care Act (ACA) and its protections for pre-existing conditions would hurt Maine and other states if it were to prevail: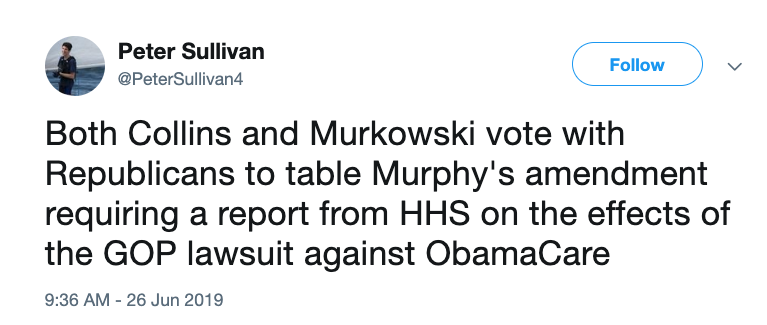 On the very same day, a federal appeals court leveled a new threat to the ACA – providing a potential boost to Republicans who are arguing the ACA and its pre-existing conditions protections are unconstitutional. Legal experts said this development increases the chances the entire health reform law is overturned.

While Collins has tried to publicly distance herself from the lawsuit, her actual votes in Washington tell a different story. A report on how tearing down the health care law would impact states like Maine would underscore how dangerous this lawsuit is, but Collins stuck with her party leadership instead of doing what's right.
Senator Collins has a long record of facilitating these attacks on the ACA, including 
signing onto an amicus curiae brief arguing that the ACA should be struck down if the individual mandate was repealed and then voting for the Republican tax law that sparked this lawsuit
.
Take a closer look at Collins's record here:
2017: Collins voted for Trump's tax law that repealed the individual mandate, which she admitted would cause "double-digit premium increases." After Collins voted to repeal the individual mandate, it sparked a lawsuit to fully repeal the ACA.
2011-15: Collins voted to repeal health care and protections for pre-existing conditions a whopping seven times.