Our 2018 Convention keynote speaker is Congressman Joaquin Castro of Texas!
Congressman Castro has spent his entire career making sure that all Americans have a fair shot at success and equal opportunity to build better lives for themselves and their families. Along with Congresswoman Pingree, he is an incredible champion for middle-class Americans in Congress, and we are excited to have him join us in Lewiston for our convention.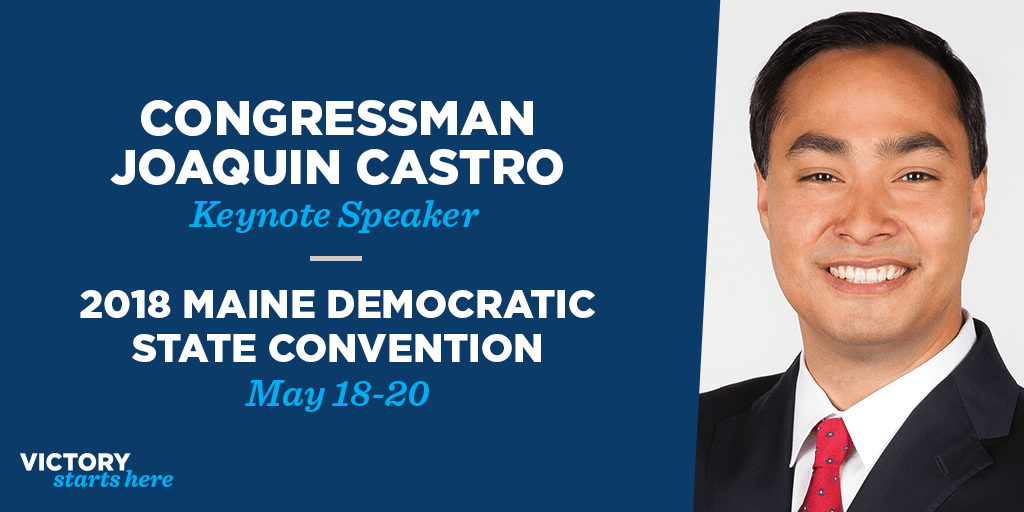 Congressman Castro hails from San Antonio, Texas, and is a second generation Mexican American. At 28 years old, Castro was elected to the Texas Legislature. He served five terms as state representative for District 125. In 2012, he was elected to serve in the U.S House of Representatives for Texas' 20th Congressional District.
Congressman Castro sits on the House Intelligence and Foreign Affairs Committees, and currently serves as Chief Deputy Whip for House Democrats. As a Congressman, Castro has been a tireless advocate for his constituents. From supporting military families to investing in education, Castro remains committed to fighting for great public schools and universities, a sound health care system, and good-paying jobs for all Americans.
Like Congressman Castro, Maine Democrats are ready to demonstrate at Convention that we are the party that fights to make sure everyone has access to affordable health care, that everyone has the opportunity to earn a living wage, and that government works for Maine people — not against them.
Congressman Castro is scheduled to speak at 4:00 p.m. on Saturday, May 19th.
Interested in hearing Congressman Castro speak? Register for our 2018 Convention today!