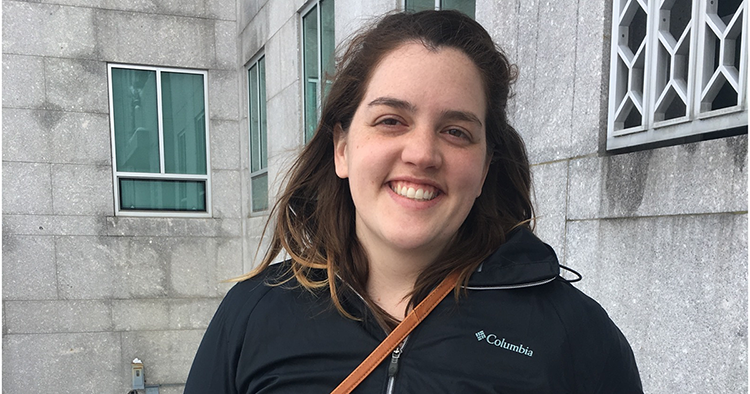 Westbrook, MAINE – Democrat Eryn Gilchrist of Greene announced today that she will run for Maine State House District 57 (Sabattus and Greene), challenging Republican candidate Les Gibson who recently garnered national headlines for insulting two students who survived the school shooting in Parkland, Florida.
Today, Gilchrist submitted the necessary signatures to the Secretary of State's office to place her name on the November ballot. After reading Gibson's comments, Gilchrist spent much of this week collecting signatures for her run, working through this week's massive snowstorm to gather enough support to place her name on the ballot before today's 5 p.m. submission deadline.
"I never thought I would run for office, and I was perfectly content with just remaining a member of the community, but after reading Mr. Gibson's comments I thought that the people of Greene and Sabattus deserved a representative who will respect people and try to work through their differences to make our lives better," said Gilchrist. "That's what I pledge to do if I am lucky enough to be elected, and I look forward to working hard over the next several months to earn the trust and support of people throughout my community."
"We are excited to have Eryn enter this race," said Phil Bartlett, Chairman of the Maine Democratic Party. "We know that she will be a champion for the people of Sabattus and Greene in the State House and will work hard to ensure that what happens in Augusta improves the lives of her neighbors and community members."
"We could not be happier to have Eryn run," said Representative Sara Gideon, Speaker of the Maine House. "She is a concerned member of her community who cares about the future of her neighbors – and, like many other Democrats across Maine, she's now stepping up to help them."
Eryn Gilchrist, 28, lives in Greene, Maine with her husband and dog. She works for a medical device company based in Bowdoin and attended Bates College in Lewiston. Following graduation from Bates, she and her husband moved to Connecticut for a brief amount of time, only to decide to move back to Maine after missing the state so much.
Democrat David Gilbert, the Chair of the Sabattus Town Planning Board, had also submitted signatures to have his name put on the ballot, but will withdraw them and is excited to support Gilchrist's candidacy.
###