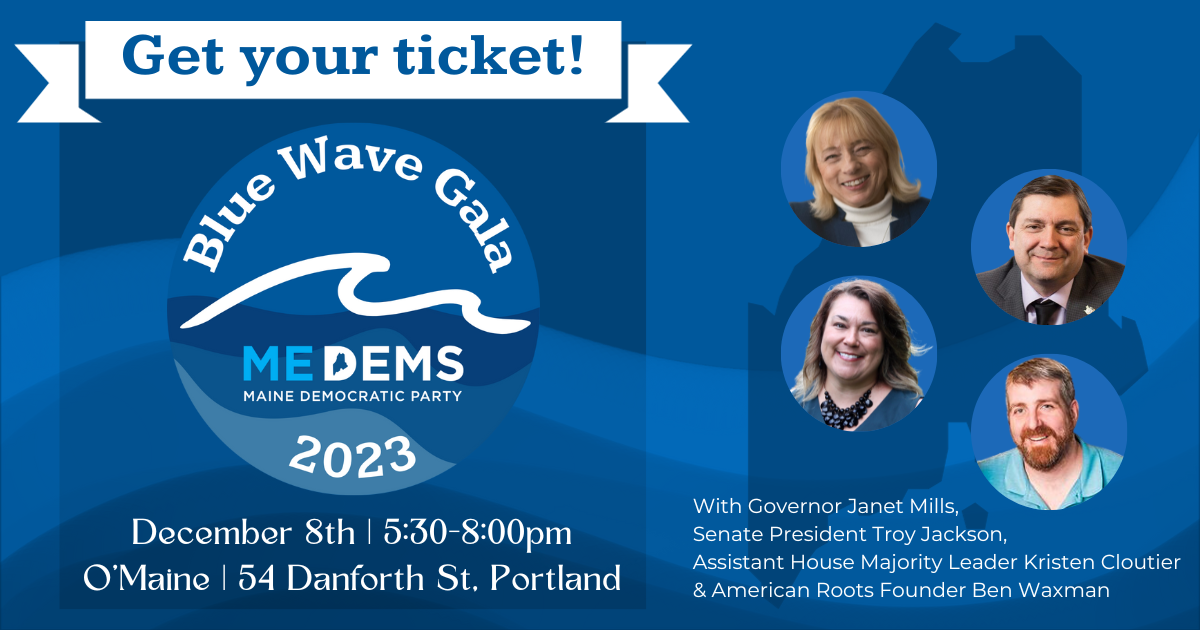 We are so excited to announce that this year's Blue Wave Gala will take place at O'Maine in Portland on Friday, December 8th from 5:30-8pm!
We hope that you can join us for this fun night out in Portland to honor our elected officials, and to help support the Maine Democratic Party as we work to keep Maine blue in 2024. 
We encourage guests to dress in their best blue attire to show their Democratic spirit!
Featured Guests:
Governor Janet Mills
Senate President Troy Jackson
Assistant House Majority Leader Kristen Cloutier
Ben Waxman, Founder of American Roots
Date: Friday, December 8th
Time: 5:30 - 8:00 PM
Location: O'Maine, 54 Danforth St., Portland. 
Food will be served buffet style, with both meat and vegetarian options. Beer and wine will also be available at a cash bar. Some complimentary non-alcoholic beverage options will be provided free of charge.
Thank you to our sponsors:
Series Sponsor
Bernstein Shur
Corporate Sponsor 
Laborer's International and Building Solidarity PAC
Host Sponsor 
Lee Auto Malls
Sponsors
Kevin Fickenscher
Maine Building and Trades
MEREDA
Friends
BJ McCollister
Andrew Roth-Wells
Ross Watson
Joseph Baldacci
William Hall
Drew Gattine
Joe Zamboni
Charles Dingman
Barbara Cray
Ryan Fecteau
Justin Alfond