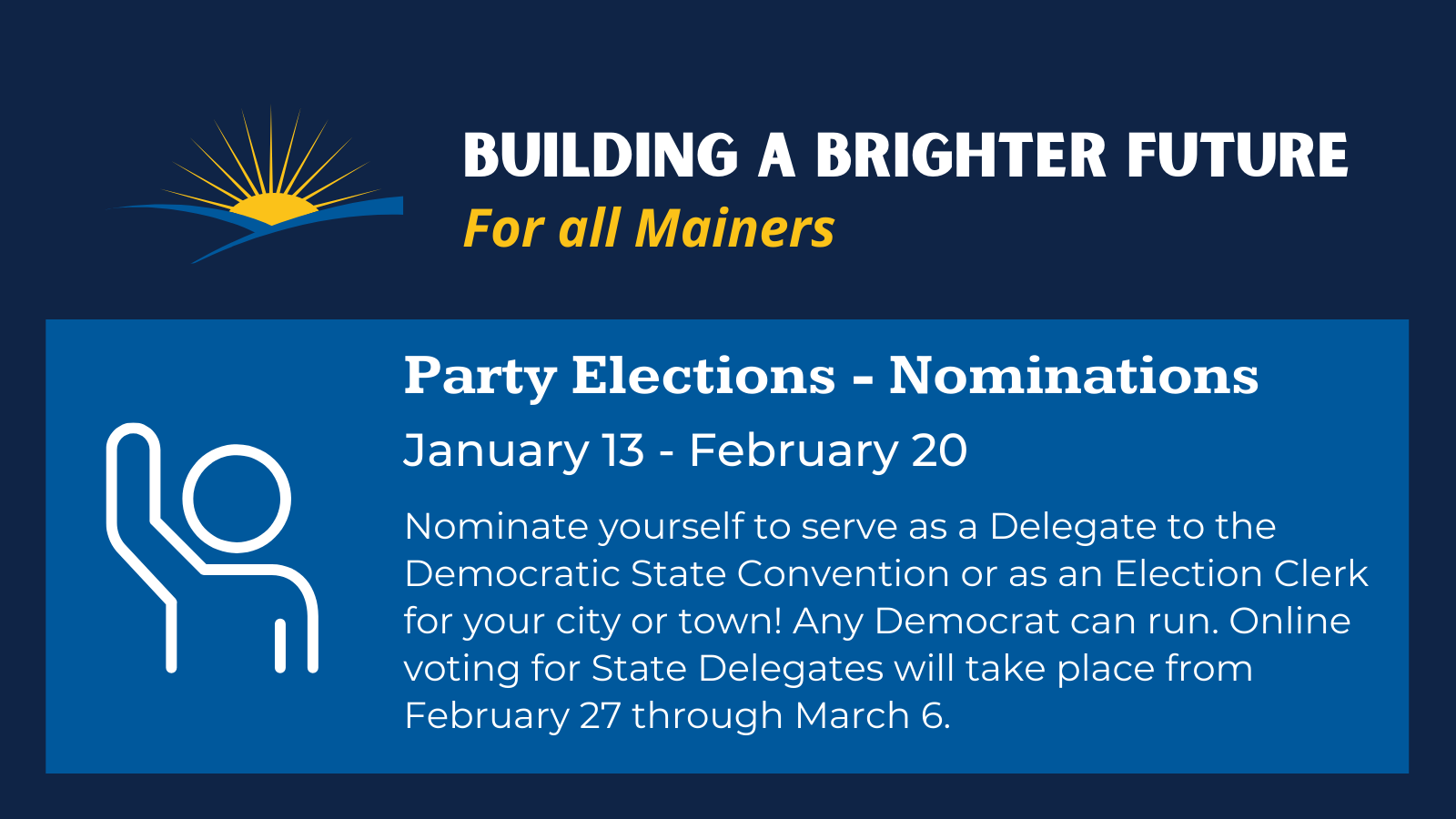 Get Started HERE:
Party Elections Nomination Form
Instructions
The Maine Democratic Party is seeking nominations for individuals interested in representing the community as State Delegates at the Democratic State Convention in May. We are also looking for folks to serve as Election Clerks for their city/town. Any registered Maine Democrat can use the above form to:
Nominate yourself to be on the ballot for State Delegate
Sign up to vote in these elections
Add yourself to the list of people willing to work as Election Clerks in your town
If you have difficulty completing the form due to technical issues, inadequate internet access, or for any other reason, please feel free to give us a call at (207) 530-6391.
Frequently Asked Questions (FAQ)
What are Party Elections?
Party Elections are the process of nominating and electing State Delegates and Election Clerks. Party Elections are held every even-numbered year (e.g. 2022) and any registered Maine Democrat can participate. Nominations for State Delegate and Election Clerks open on January 13, 2021.
How do I Participate in Party Elections?
If you're a registered Maine Democrat, you can complete the above Party Elections Nomination Form to nominate yourself for State Delegate, sign up to vote, or volunteer to be an Election Clerk. If you sign up before February 20, we will automatically email you your ballot on February 27. If you do not sign up before February 20, you can still vote when polls are open between February 27 and March 6.
What are State Delegates?
State Delegates represent their community at the Maine Democratic State Convention in May. They are responsible for making crucial decisions and voting on the Party Platform, Charter, and new State Committee members. Any registered Maine Democrat can run for State Delegate.
What are Election Clerks?
Election clerks work at the polls on election day. By state law, town clerks are required to select a balance of Democrats and Republicans to fill these roles. It is vital that we have Democrats lined up in every town to fill these important positions. Each Party can submit a list of local party members willing to do this important work. Anyone who volunteers to be an Election Clerk will be added to the list that will be submitted to their local town clerk by the State Party. In some towns these positions are paid, and in others they are volunteer positions. Check with your town clerk to find out how it works in your town! Please also be aware that towns are not obligated to hire the people supplied by Party lists (but they often do). Use the Party Elections Nomination Form to nominate yourself to serve as an Election Clerk. More information about the Election Clerk role can be found here.
How will Party Elections be Different this Year?
Since the Maine Democratic Party will NOT be holding traditional Caucuses in 2022, the elections that normally occur at Caucuses will happen ONLINE between February 27 and March 6, 2022. We hope this new arrangement will ensure participants can remain safe while also increasing access for both new and longtime activists to engage in Democratic organizing efforts. Click here for more information about our 2022 Party Engagement schedule.
What About Caucuses?
Given the uncertainty with the COVID pandemic, we will NOT be holding municipal caucuses in March as we traditionally have. But not to worry! We will be able to do all of the things we do at caucuses, and then some. One of the key things we normally do at caucuses is gather Democrats locally to build their Municipal and County Party Committees and get organized and mobilized for the coming campaign. And we will do that in 2022! Just later, when the weather is nice, COVID is hopefully less severe, and we can meet outside. All of the other business besides State Delegate elections and Election Clerk nominations that normally occur during caucuses, will be moved to Local Organizing Month, which will happen between June 15 and July 15.
I Have More Questions! Who can I Contact for Answers?
If you have additional questions, please feel free to reach out to the Maine Democratic Party directly. If you call and reach our voicemail, please include your full name and daytime telephone number. We will reach back out to you shortly!
Email: partyaffairs@mainedems.org
Phone: (207) 530-6391